245 Skidmores Road
Deer Park NY 11729
631-243-7999
Our business hours are from 8 am until 5 pm Monday thru Friday
8 am to 12 Noon on Saturdays
Sundays we are CLOSED!
We are also closed on the following holidays Memorial Day, Independence Day (July 4th,) Labor Day, Thanksgiving Day, Christmas Day and New Year's Day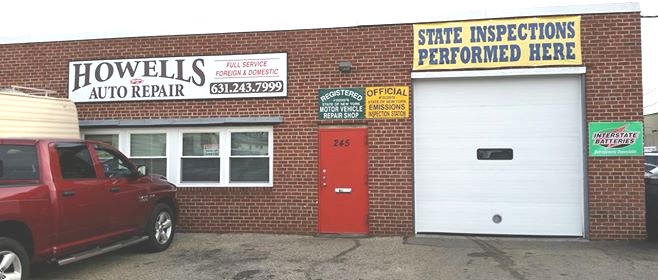 If you own a motor vehicle on Long Island there is no doubt that you have searched in vain for what seems to be almost impossible to find, and that would be a REPUTABLE and HONEST motor vehicle repair shop.
You most likely, sometime in the past, have been cheated and/or scammed by one or more auto repair shops. You don't have to put up with that anymore!
HOWELLS AUTO REPAIR is the shop you can TRUST! It is located at 245 SKIDMORES ROAD in DEER PARK just North of Bay Shore Road.

The owner of HOWELLS AUTO REPAIR, is an extremely personable gentleman by the name of Chris and he can truly be relied upon to be absolutely TRUTHFUL and FORTHRIGHT when diagnosing and advising you of the source and cause of any impending symptoms which your vehicle may be exhibiting.

Chris has many years of experience in ALL phases of both domestic and foreign automobile AND truck repair, and as well the proper maintenance of them. He possesses an enviable total of over 40 years worth of automotive experience!

He is a man of resolute and unwavering integrity and he has always clung to the precept that anyone bringing their motor vehicle to his shop for maintenance or repair deserves to be treated with the highest level and degree of RESPECT and with absolute HONESTY.

Chris's expert mechanical knowledge of motor vehicles and the rendering of professional services through the years is the reason why you should visit HOWELLS AUTO REPAIR if you have a mechanical or electrical problem with your vehicle.
If you are not 100% satisfied with the particular shop that you have been using to service or make repairs to your vehicle then why on earth would you continue to use that shop?

You owe it to yourself and to your car or truck to take your vehicle to someone whom you can trust implicitly.
You CAN trust and put your full faith into HOWELLS AUTO REPAIR!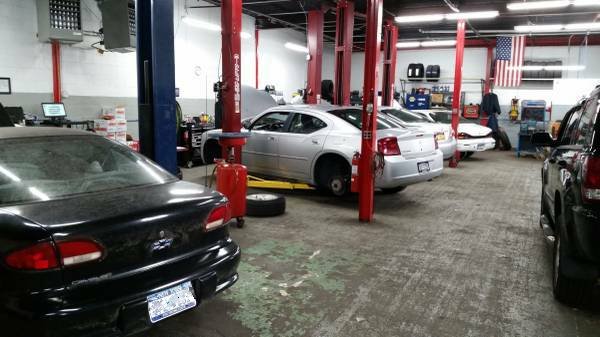 HOWELLS AUTO REPAIR is a 3700 sq. ft. service and repair facility with ALL of the diagnostic equipment required to precisely, and quickly, determine exactly where the problem lies. From that point the appropriate repairs and/or adjustments can be swiftly accomplished.

As you can clearly see, the shop area, pictured above, at HOWELLS AUTO REPAIR is clean, uncluttered and well lit, and it is neatly and properly organized.

This pristine condition affords the mechanics, who service or perform repairs upon your vehicle, the means to work safely and efficiently which assures you that your vehicle will receive the very best in attention and service!

If your motor vehicle should someday develop any mechanical or electrical problem you owe it to yourself to enjoy a new and pleasant experience in vehicle repair.

HOWELLS AUTO REPAIR also performs expert and reliable motor vehicle maintenance which will help in keeping your vehicle running at its very best for virtually unlimited dependable and problem-free miles!

HOWELLS AUTO REPAIR is registered, as is required by law, with the Department of Motor Vehicles of the State of New York and is also authorized and licensed by the New York State Department of Motor Vehicles as an approved and authorized facility to administer and perform the official New York State Inspection.

There you have it!

You have the choice of remaining distressed and unhappy by going back to your "old" repair shop or you could come to HOWELLS AUTO REPAIR and discover just how stress-free and emotionally satisfying a trip to a superior automobile repair and maintenance facility can be!

To read a sampling of reviews from CUSTOMERS of HOWELLS AUTO REPAIR
Click or tap

---

245 Skidmores Road
Deer Park NY 11729
631-243-7999
Our business hours are from 8 am until 5 pm Monday thru Friday
8 am to 12 Noon on Saturdays
Sundays we are CLOSED!
We are also closed on the following holidays, Memorial Day, Independence Day (July 4th,) Labor Day, Thanksgiving Day, Christmas Day and New Year's Day
If your vehicle needs service or repair, then when you come in, would you also please let us know that you visited our website!
We would really appreciate your letting us know that!
Thank you!
(Entire contents Copyright 2017 Howells Auto Repair)